ALBUM RELEASE CELEBRATION
GWAR - SCUMDOGS XXX LIVE STREAM
$9.99 - $39.99
Sales Ended
On Liquid Death and Metal Injection
A full uncensored GWAR concert streamed live October 30th at 8pm EST, pre-show begins at 6pm EST
Puny Humans! GWAR, the greatest live band in the universe will unleash Scumdogs XXX Live! The 30th anniversary reunion show of the shock rock classic Scumdogs of the Universe presented by @LiquidDeath and @Metalinjection. This is a full uncensored GWAR concert streamed live October 30th at 8pm EST, pre-show begins at 6pm EST. The show will be available on demand until November 15th. Miss it at your peril!
***
Celebrating the 30th anniversary of the band's breakthrough album Scumdogs of the Universe, this unique live production includes a full performance of the album, special guests from the original GWAR Scumdogs of the Universe lineup, an event pre-show, and a live interactive after show with the band and fans.
This large scale immersive production will broadcast globally via the Gwar website on Friday October 30th, kicking off Halloween weekend with a performance, comedic clips, and much more – nearly 3 hours of GWAR mayhem on Devil's Night! Coinciding with the release of their 30th Anniversary remixed and remastered Scumdogs of the Universe album, fans have long awaited this special event.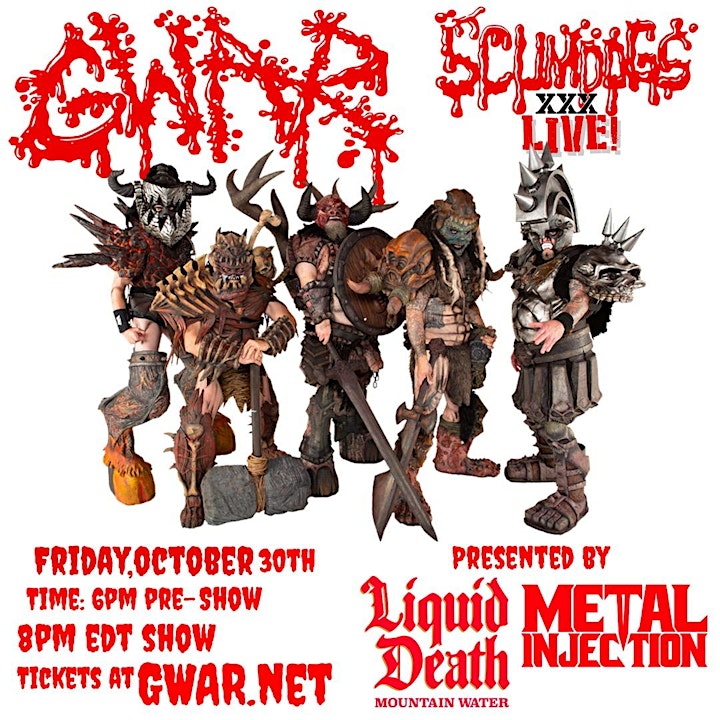 LIVESTREAM FAQ
Below are a list of common questions about live streamed events hosted here at GWAR's official website. If you still have questions you can reach out to us here.
1. Where do I purchase a ticket to the live stream?
-Click here.
2. I've purchased tickets to the live stream. How do I watch it?
-In order to access the live stream page you will need to be signed into your account. Our site will know if you purchased tickets and you will be able to see the stream at this page. If you need to reset your password you can do that here.
3. Can I buy tickets for my friends?
-You can only buy one ticket at a time, but you can buy this gift certificate for someone else. You will receive an email you can forward to them so that they can use the code in the email to purchase a free ticket to the show.
4. Why can't I buy more than one ticket?
-Our system authenticates each buyer by their account. Since only one person can be signed into an account at a time, each account needs its own ticket.
5. What devices are supported?
-We officially support viewing livestreams/rebroadcasts via a browser on your desktop or laptop computer. Fans can also enjoy the stream on their mobile device by visiting the website. Most devices that support screen mirroring / casting can be used as long as you are logged into GWAR.net on the supported device. A 5-10mbps download speed is recommended. Check your connection at www.speedtest.net. Due to the many devices on the market with different mirroring standards, we are unable to provide technical support. Please visit your device manufactures website for more details.
6. Will this live stream be available for on-demand viewing later?
-Yes! Ticket holders can watch, or rewatch, the stream for two weeks after the event.
7. Is the show downloadable? -No.
Venue Information: