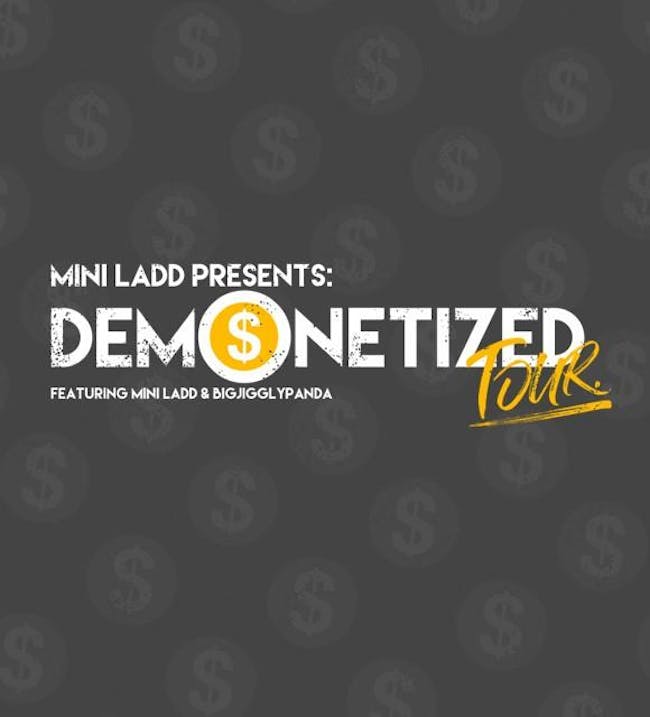 Mini Ladd
BigJigglyPanda
The Ballroom at Warehouse Live
$37.50 - $300.00
Tickets At The Door
Mini Ladd Presents: Demonetized Tour Feat. BigJigglyPanda Houston Warehouse Live
Mini Ladd Presents
Demonetized Tour
Feat. BigJigglyPanda
NOVEMBER 24, 2019
WAREHOUSE LIVE
HOUSTON, TX
DOORS: 7:00 PM
SHOW: 8:00 PM
ALL AGES
TICKETS: $37.50 GENERAL ADMISSION SEATING, FIRST COME FIRST SERVE.
https://www.warehouselive.com/e/mini-ladd-presents-demonetized-tour-feat-bigjigglypanda-64113675730/
Mini Ladd & BigJigglyPanda are taking their live show across North America! Stand up, memes, video games, stories that will make you laugh, stories that will make you cry and stories that will travel through existential planes towards the merch table (can't confirm that one, just a shameless plug). Come be a part of the "controlled" chaos that is the Demonetized Tour. YouTube can take our money, but they can't take away this tour!
$69 VIP Early Entry - Sold Out!
Capacity: 25 per show
One premium reserved ticket within the first 15 rows (where applicable)
VIP early entry into the venue
Limited edition poster; autographed by Mini Ladd and BigJigglyPanda
Official VIP laminate
Very limited availability
$99 VIP Q&A - Sold Out!
Capacity: 100 per show
Package includes:
One premium reserved ticket within the first 10 rows (where applicable)
VIP early entry into the venue
Exclusive pre-show Q&A session with Mini Ladd and BigJigglyPanda
Limited edition poster; autographed by Mini Ladd and BigJigglyPanda
Specially designed Mini Ladd and BigJigglyPanda tote bag (exclusive to VIP packages only!)
Exclusive Mini Ladd and BigJigglyPanda merchandise item
Official VIP laminate
Limited availability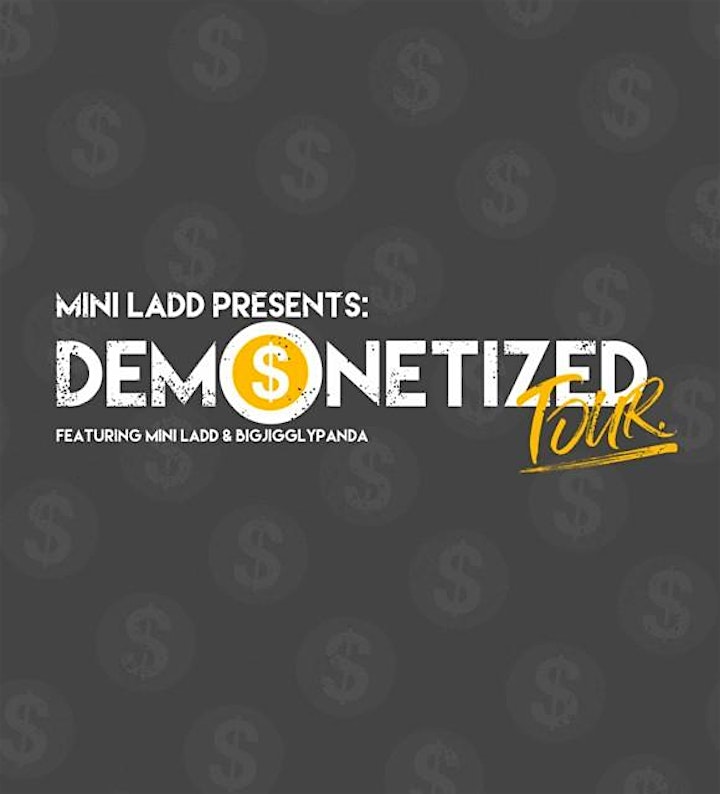 Venue Information:
The Ballroom at Warehouse Live
813 Saint Emanuel Street
Houston, TX, 77003